AN AMERICAN MODERNIST
On May 31, 1911, Marjorie Evelin Johnson was born in Upland, Texas, a small town that no longer exists, in Upton County.  Her father, a country doctor who worked for Humble Oil, constantly moved his family around West Texas to wherever Humble oil workers needed his services.  Most likely from the stress of being in almost constant motion, Marjorie's parents divorced in 1924 and her grandmother moved the family to Fort Worth where they lived in rental housing until 1938.  Marjorie graduated Paschal High School in 1925 and that next year, at age 15, started working for Southwestern Bell Telephone Company.  That same year, pursuing her childhood interest in drawing, Marjorie started studying art with Fort Worth artist, Mrs. G.W. Greathouse.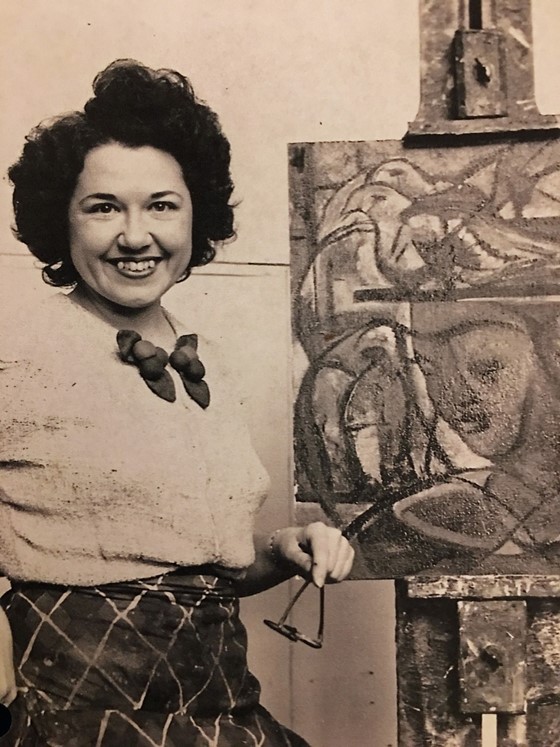 In 1934, while still working with the phone company, Marjorie decided to attended Texas Christian University.  After taking classes at TCU for two years, she dropped out when Blanche McVeigh, a respected artist and printmaker who was a principal of the Fort Worth School of Fine Arts along with Evaline Sellors and Wade Jolly, was impressed enough with her artistic talent to invite her to enroll in their school.  Under Jolly's tutelage, she became a skilled landscape watercolorist.  In the late 30's and early 40's she exhibited often with other prominent Fort Worth artists like Bror Utter and Veronica Helfensteller.  As with many serious artists in the Dallas and Fort area during that time, she traveled to Colorado Springs to take classes at the Colorado Art Center in 1942.
In the latter part of 42, to do her part, Marjorie joined the WAVES and was sent to Norman Oklahoma for training in radio communication and celestial navigation.  In 1943, she was assigned to Pensacola Naval Air Station in Florida for the next three years where she taught young airmen these skills and painted and drew whenever she had time off.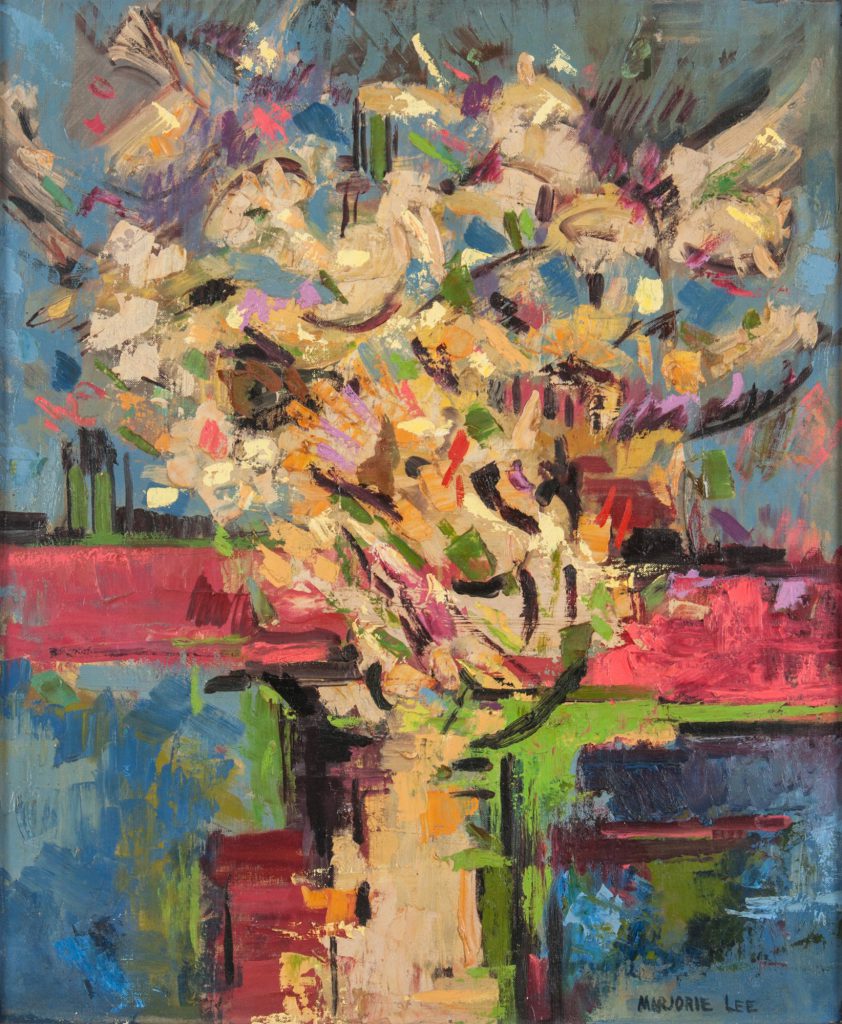 After WWII, she moved to New York City to attend the Art Students League under the GI Bill.  In 1947, to be sure she could stay in the city, she took a job with New York Telephone and continued to take classes at the League through 48. 
She vacationed on Martha's Vineyard in 1950 and chose to capture her impressions of the island in pastel.  She returned in 52, and this time chose watercolor, possibly more suited to the Island atmosphere.
She continued the artistic life in NYC and in 1950, met and married an experimental film maker and educator named Francis Lee.  Marjorie's artwork documents their vacations and trips out of NYC over the next 14 years with works from Minnewaska, New Rochelle, Carmel, East Hampton, and Woodstock in NY, Colorado, Glacier Park in Montana, and New Jersey.
After working for the phone company in NYC for 27 years, in 1974, she moved back to Fort Worth introducing her husband to life in Texas.  Although while living in New York, she continued to show in important Texas and regional shows, retirement provided the opportunity to focus on her art.  She started exhibiting with the Evelyn Siegel Gallery in Fort Worth and entering competitive shows all over Texas.  Nine years after their move, Marjorie and Francis divorced and he moved back to NYC. 
About the time Marjorie entered the Art Students League in NYC, she fell in love with color and was won over by Modernist art.  During her vacations she filled drawing books with plein-air, almost fauve like, pastels and watercolors of ebullient trees, fast flowing rivers, and assemblages of hyper-colored rocks.  Upon her return to the city, her favorite pastels and watercolors would often evolve into studies for oil paintings.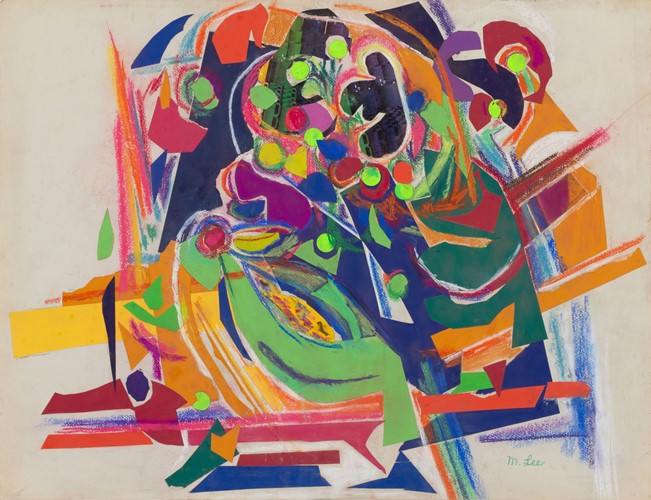 After she returned to live in Fort Worth, she started creating brightly colored collages, cut from home-made and commercial colored papers, repurposed watercolors, and often combined with watercolor washes, ink, and sometimes pastel.  They were always bright in color and evolved over time from representational to totally non-objective.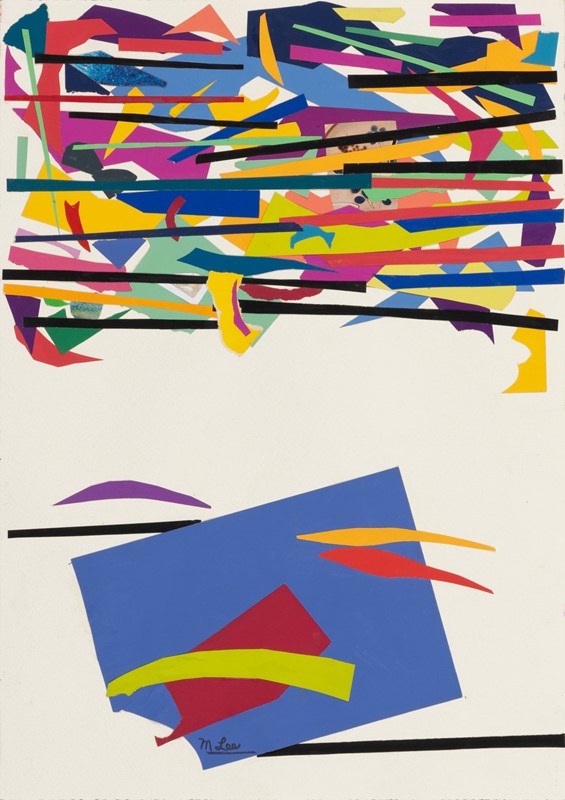 Marjorie gave up entering competitive shows in 1984 and her last one-person show was held at Evelyn Siegal Gallery in 1994.  She died in a Fort Worth nursing home on February 1, 1997.
*****
To see all available FAE Design Blog Posts,  jump to the Design Blog Table of Contents.
To see all available FAE Collector Blog Posts, jump to the Collector Blog Table of Contents.
Sign up with FAE to receive our newsletter, and never miss a new blog post or update! 
Browse fine artworks available to purchase on FAE.  Follow us on Facebook, Instagram, or Twitter to stay updated about FAE and new blog posts.
For comments about this blog or suggestions for a future post, contact Kevin at [email protected].
Other FAE informational posts you may find helpful: